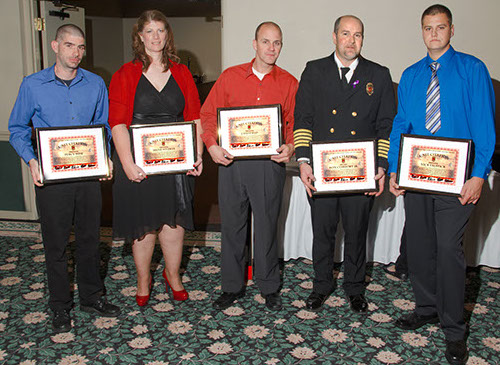 Percy Wise, Irene Fitzkee,
Lieutenant J Hatfield,
Fire Chief Ron Comfort Jr.
Nick Falstick
On February 28th, 2014 at 21:50 hours, Station 66 was dispatched to a reported structure fire at 1115 Marietta Avenue (Wheatland Arms Apartments).
On arrival of the fire department, heavy fire and smoke was visible from the 3rd floor to the rear of the building. Due to high heat and smoke conditions in the 3rd floor hallway, residents became trapped on their balconies.
Quick actions by the crew of Truck 66 effected the rescue of seven (7) civilians via ground ladders, the aerial ladder and the interior stairs. This included one female patient needing medical attention.
For these actions, the LTFD is presenting the crew of this unit with a citation for excellent teamwork resulting in a positive outcome for the trapped occupants.