Unit Citation ~ Squad 66-1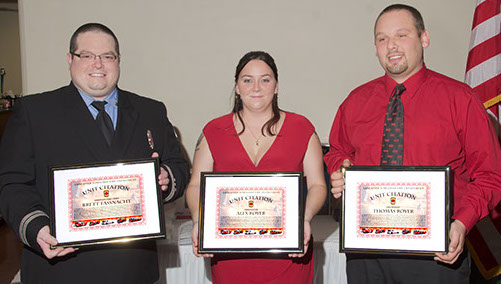 Assistant Chief Brett Fassnacht,
Alex Royer, Thomas Royer
On May 23rd, 2014 at 13:55 hours, Station 66 was dispatched for a cardiac arrest at 1713 Betz Farm Drive. On arrival of the fire department, one male patient was found to be unconscious and not breathing.
A quick assessment by the crew found the male to have an extremely rapid pulse and his skin turning blue. The crew of Squad 66-1 identified the patient was in grave danger and needed oxygen immediately.
The automatic external defibrillator was attached to the patient and a bag-valve mask and oxygen was placed on the patient's face. The crew began providing rescue breathing to the patient and secured a means of rapid egress via a garage door.
Patient care was transferred to EMS on their arrival and they administered additional medications. Within ten minutes, the patient was awake and talking.
The patient was then transported to the hospital for additional treatment.
For these actions, the LTFD is presenting the crew of this unit with a citation for excellent teamwork resulting in a positive outcome for the patient.